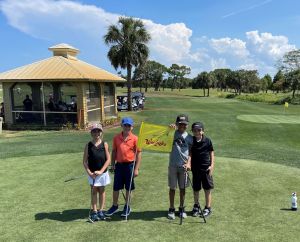 Wee Links & Play –  A great way for your young golfer to learn how to play the game!  Wee Links is Fairwinds' six-hole chipping and putting course with holes ranging from 25 to 55 yards. It provides the absolute best learning environment for new golfers. The Saturday afternoon program spans 6 weeks and is directed by Assistant Golf Professional, Annery Abreu.
Important Information:
Ages 4 to 12.
Class starts at 3:00 PM.
Beginner friendly.
Clubs provided. *LIMITED*
Must register 24 hours prior to class, please email abreua@stlucieco.org.